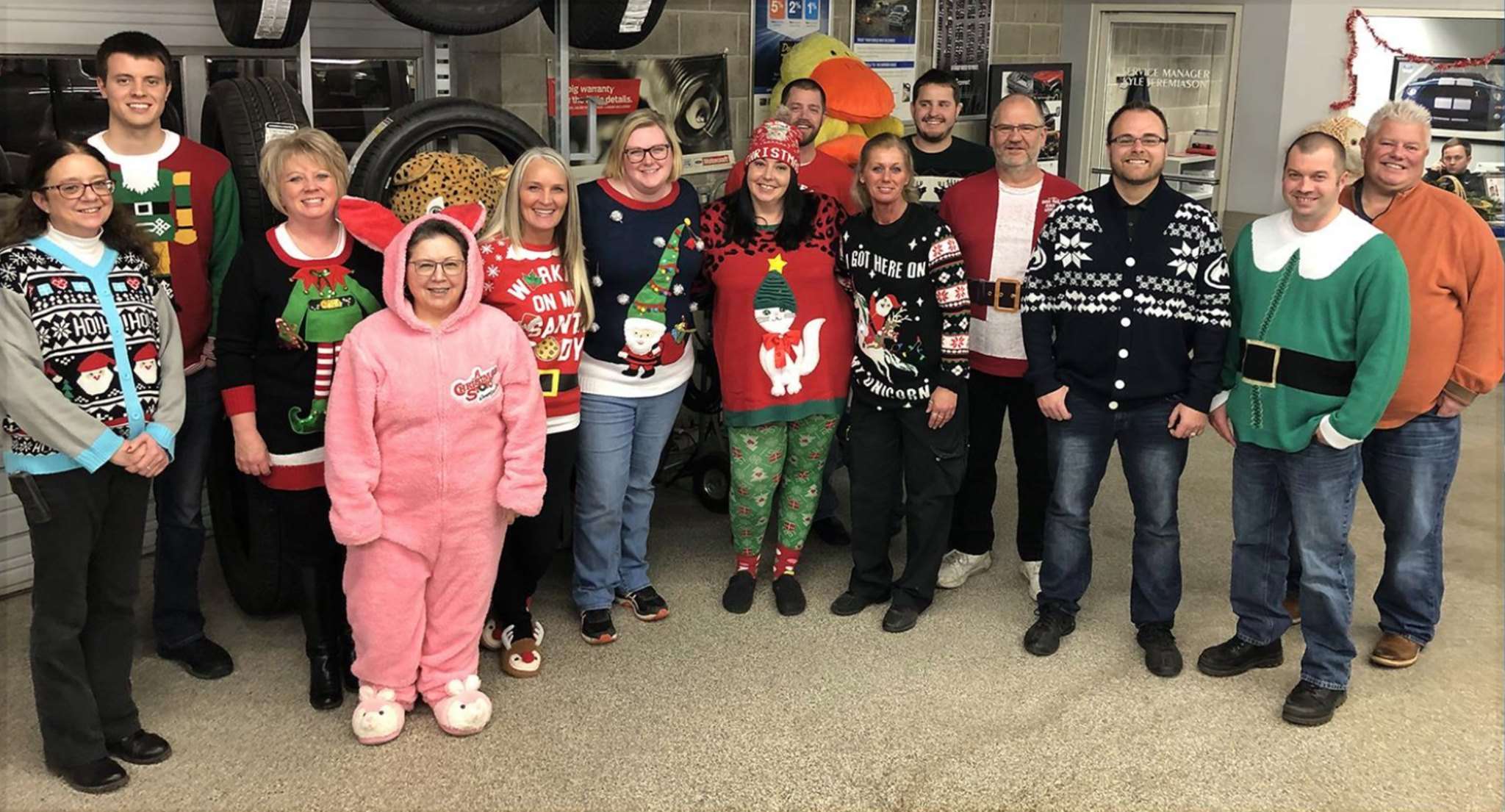 At Einspahr Auto, our mission is "to develop lifelong customers by consistently exceeding their expectations." The number one way we live out our mission statement is through our employees!
Einspahr Auto has been a part of the Brookings community for over 50 years, and we take great pride in creating a comfortable, supportive atmosphere for both our customers and employees.
Benefits of Working at Einspahr
We do our best to make work fun and meaningful here at Einspahr, and our high employee retention rate indicates we're doing something right!
When you work at Einspahr, you're a valued member of our tight-knit team. From sales staff, to service, finance, we all want to see each other succeed, and are willing to do what it takes to get help each other get there.
Competitive salary, paid time off, a comfortable working environment, and fun office and community events are just a few of the many reasons people choose to work at Einspahr! (Learn more about Einspahr's unique company culture here).
Ready to join the team? Take a look at our open positions below and apply today!



3 Open Job Listings
If you believe you would make a great asset to our team please fill out an application and/or send in your resume. We would love to hear from you!
Apply For Join Our Team Online
Showroom Receptionist (part-time) Einspahr Auto Plaza is currently looking for a Showroom Receptionist/Administrative Assistant for part-time employment. We are looking for candidates that are outgoing, love working with people, are capable of multi-tasking, and possess basic computer skills. The person filling this roll is the dealership's first impression for customer's either walking into the showroom or calling on the telephone which makes it imperative that they possess excellent oral and written communication skills and have a professional appearance. In addition, basic computer and typing skills are required. The main duties of the Showroom Receptionist are to make sure that customers calling the dealership on the phone or greet them coming into the showroom and directed to the appropriate personnel to take care of their needs. In addition, there are other duties helping various departments with various functions. Hours: Monday – Friday 3-4 hour shifts between 7:30 AM-5:30 PM ESSENTIAL DUTIES: • Greet customers coming into the showroom and direct them to the right. people/location in the dealership. • Answering incoming calls and directing them to the right people. • Take thorough messages and communicate them in a timely manner. • Provide basic information to customer inquiries. • Perform clerical duties as assigned such as filing, mail distribution, and data entry. • Maintain cleanliness of the showroom (dusting vehicles, water plants, maintain coffee, children's play area, etc.). • Assist in making follow-up calls when needed. • Other duties as assigned. Qualifications: High School Diploma required. Customer Service experience preferred. Willingness to take initiative Quality writing and grammar skills Basic Computer and typing skills Ability to perform job responsibilities and meet deadlines easily Excellent communication and customer service skills Professional appearance Ability to work independently Job Type: Part Time Einspahr is an equal opportunity employer Apply in person or send resume to: Einspahr Auto Plaza Attn: Trish Garry 2020 8th Street South/PO BOX 226 Brookings, SD 57006 einspahr@einspahr.com
Apply For Receptionist - Part Time Online
Service Technician - Full Time
Einspahr Auto Plaza is looking for an Automotive Technician to join our team. If you are an experienced technician or just recently graduated from Vocational/Tech School this may be a great opportunity to join the team of a dealership that has a solid reputation, has very little employee turnover, and is a great place to work. Contact our Service Manager, Kyle Jeremiason, to visit more about whether this is a great opportunity for you to become a part of a strong team that will work with you to help you grow in your career, provide an opportunity to make a great living, and has a schedule that allows time with family and friends. Experience and Training with Ford or Chrysler vehicles is a positive but not necessary. Strong basic automotive repair skills are a must. We provide the needed training required by our manufacturers (Ford and Chrysler) along with setting up a continual training program to advance the skills of our technicians. Hours for this job are Monday through Friday from 7:30AM-5:30PM and every third Saturday from 7:30AM-Noon. WE REQUIRE: • Previous Experience (Ford or Chrysler preferred) or Vocational/Technical Degree • Adequate computer and typing skills • Professional appearance • Personal tools and toolbox • Valid Driver's License • Resume or Application WE OFFER: • Income depends upon experience • Additional Training as needed • Blue Cross/Blue Shield Health Plan • Life, Disability, and Dental Plans • 401K Program • Other benefits Please apply in person or send resume to: Kyle Jeremiason, Service Manager Einspahr Auto Plaza, Inc. PO BOX 226/2020 8th Street South Brookings, SD 57006 kylej@einspahr.com (605)692-6106 Einspahr Auto Plaza, Inc. is an equal-opportunity employer.
Apply For Service Technician - Full Time Online