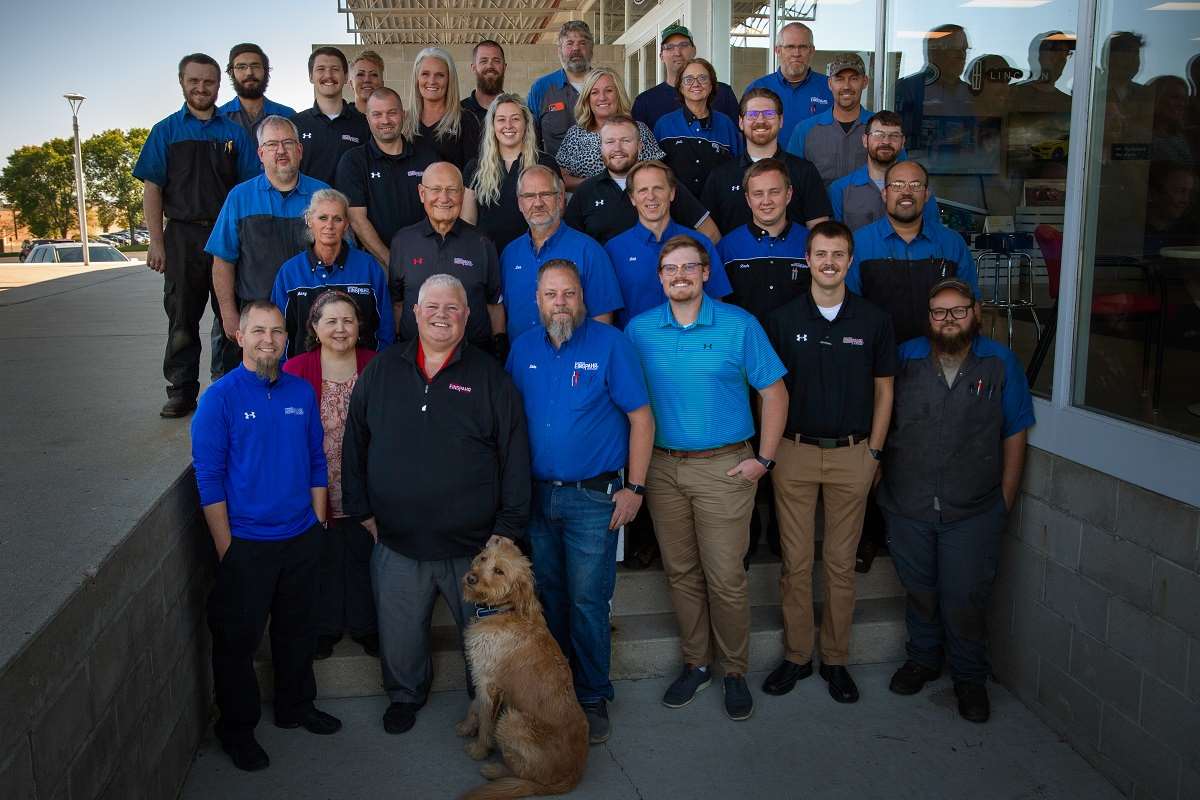 At Einspahr Auto, our mission is "to develop lifelong customers by consistently exceeding their expectations." The number one way we live out our mission statement is through our employees!
Einspahr Auto has been a part of the Brookings community for over 50 years, and we take great pride in creating a comfortable, supportive atmosphere for both our customers and employees.
Benefits of Working at Einspahr
We do our best to make work fun and meaningful here at Einspahr, and our high employee retention rate indicates we're doing something right!
When you work at Einspahr, you're a valued member of our tight-knit team. From sales staff, to service, finance, we all want to see each other succeed, and are willing to do what it takes to get help each other get there. Here are just a few of the many benefits of working at Einspahr:
Competitive salary
Paid time off
Comfortable working environment
Fun office and community events
Learn more about Einspahr's unique company culture here.
Why Work at Einspahr?
A Team that Feels Like Family
Ready to join the team? Take a look at our open positions below and apply today!



2 Open Job Listings
Accounting Clerk Einspahr Auto Plaza is currently looking for a full-time Accounting Clerk to join our team. Einspahr Auto Plaza is a family-owned and operated new and pre-owned automobile dealership with franchises from Ford, Lincoln, Chrysler, Dodge, Jeep, and Ram that has served the Brookings area since 1969. Einspahr is an equal opportunity employer looking for a career minded, highly experienced, motivated Accounting Clerk to join our team. This is an excellent opportunity to join the fast-paced automotive industry. The main function of the Accounting Clerk is to assist the Office Manager/Comptroller in the day-to-day accounting requirements of the dealership. The Accounting Clerk will also work with all departments of the dealership. Accounting Clerk essential duties: • Prepare and post daily deposits. • Post Parts and Service invoices and file. • Maintain all aspects of accounts receivable and accounts payable. • Process dealer trade and courtesy delivery paperwork. • Post new and used vehicles into inventory. • Process customer title paperwork. • File sold and leased vehicle deal jackets. • Keep office and equipment supplies stocked. • Prepare mail for delivery to the Post Office. • Answer telephone in the afternoon. • Post warranty repair orders and warranty payment statements. • Safeguard employee and customer personal information as required by Federal, State, and dealership policies. • Cross train on other accounting department duties to act as backup when needed. • Maintain a professional appearance. • Maintain a clean and uncluttered work area. While this is a comprehensive list of essential duties there may be other duties as assigned. Qualifications: • Previous accounting experience • Strong written and verbal communication skills • Strong organizational skills, analytical skills, and accuracy in details • Ability to provide quality customer service • Knowledge of Microsoft Office • To perform this job successfully, and individual must be able to perform each essential duty satisfactorily and meet deadlines on a timely basis • Reasonable accommodations may be made to enable individuals with disabilities to perform essential functions. • Valid Driver's license Compensation and Benefits: • Compensation depends upon experience • 401k with matching • Dental, Medical, Life and disability insurance • Paid Vacations • Other outstanding benefits Job Type: Full Time (8:00 – 5:30, Mon – Fri) Apply in person or send resume to: Einspahr Auto Plaza Attn: Trish Garry 2020 8th Street South/PO BOX 226 Brookings, SD 57006 einspahr@einspahr.com
Apply For
Accounting Clerk Online
If you believe you would make a great asset to our team please fill out an application and/or send in your resume. We would love to hear from you!
Apply For
Join Our Team Online