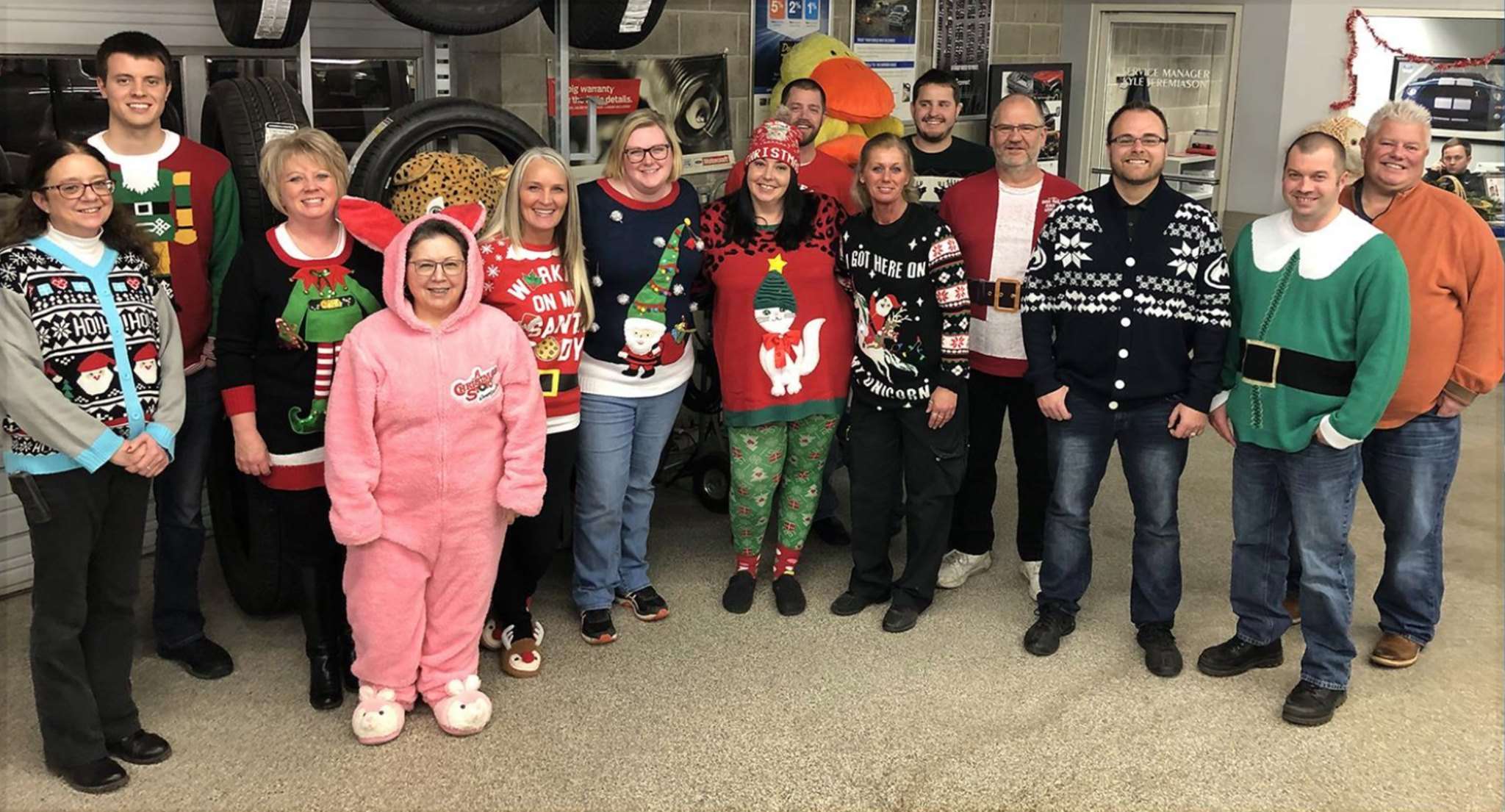 At Einspahr Auto, our mission is "to develop lifelong customers by consistently exceeding their expectations." The number one way we live out our mission statement is through our employees!
Einspahr Auto has been a part of the Brookings community for over 50 years, and we take great pride in creating a comfortable, supportive atmosphere for both our customers and employees.
Benefits of Working at Einspahr
We do our best to make work fun and meaningful here at Einspahr, and our high employee retention rate indicates we're doing something right!
When you work at Einspahr, you're a valued member of our tight-knit team. From sales staff, to service, finance, we all want to see each other succeed, and are willing to do what it takes to get help each other get there.
Competitive salary, paid time off, a comfortable working environment, and fun office and community events are just a few of the many reasons people choose to work at Einspahr! (Learn more about Einspahr's unique company culture here).
Ready to join the team? Take a look at our open positions below and apply today!



5 Open Job Listings
Sales Consultant - Full Time
We are looking for Sales Professionals that are looking for an opportunity to join a team with a great environment and have a great career with good income potential. You must be a highly motivated individual that is looking to start a career that is both exciting and rewarding. Maybe you are a successful salesperson that is tired of working late every night of the week and working every weekend and not having quality time with your family. Maybe you have always been a car fanatic and been curious about a career in automotive sales. Maybe you are just looking for an opportunity in sales that will allow you to make a great income and be properly rewarded for your hard work. Your income potential is only limited by the effort you put forth. If any or all of those scenarios fit you and your situation, we would encourage you to apply for a position with us at Einspahr Auto Plaza in Brookings. Einspahr Auto Plaza isn't like most other automotive dealerships. First of all, we are interested only in individuals that are looking for a good career and not just a job. A career that has a solid income path and offers opportunity for advancement for those that excel. At Einspahr Auto Plaza, we strongly believe that our team members deserve a great life away from work. Our Sales Professionals work one evening a week and every other Saturday. Most dealerships are open late every night and have their Sales Professionals working virtually every weekend. That is one of the major reasons why turnover at our dealership is extremely low compared to auto industry averages. The future is very bright for Einspahr Auto Plaza. As a franchised dealer for both Ford Motor Company and the Chrysler Corporation, we are able to offer products that are some of the most desirable in the entire industry and are poised for substantial growth over the next several years. We are also proud to call Brookings, South Dakota home. Brookings is a fantastic place to raise a family. Brookings has many things to offer with its wide variety of attractions from events at South Dakota State University, the South Dakota Children's Museum, a fantastic education system, numerous outdoor recreation opportunities, and many more things that make our city a great place to call home. We encourage you to check Brookings out at www.brookingssd.com. We require: • Resume or Job Application • Professional Appearance • Excellent communication skills • Strong organizational skills • Basic computer and typing skills • Sales experience preferred (does not need to be in automotive sales) • Valid Driver's License We offer: • An opportunity to make a great living • Sales Training • Medical and Dental Plans • Disability Plan • Vacation, Holiday, and Sick pay • Life Insurance • Car Allowance • 401K Plan • Performance Bases Pay If you are a self-motivated individual and being a part of the fast-paced auto industry is something that has always been in the back of your mind, we encourage you to come and visit with us about a career at Einspahr Auto Plaza. We pride ourselves on the outstanding reputation we have earned over the last four decades and it is owed entirely to our outstanding team members. Our team is growing and this is your chance to interview to become part of the team. We are only looking for someone interested in creating a long-term career for themselves. Einspahr Auto Plaza is an equal opportunity employer.
Apply For Sales Consultant - Full Time Online
Service Technician - Full Time
Einspahr Auto Plaza is looking for an Automotive Technician to join our team. If you are an experienced technician or just recently graduated from Vocational/Tech School this may be a great opportunity to join the team of a dealership that has a solid reputation, has very little employee turnover, and is a great place to work. Contact our Service Manager, Kyle Jeremiason, to visit more about whether this is a great opportunity for you to become a part of a strong team that will work with you to help you grow in your career, provide an opportunity to make a great living, and has a schedule that allows time with family and friends. Experience and Training with Ford or Chrysler vehicles is a positive but not necessary. Strong basic automotive repair skills are a must. We provide the needed training required by our manufacturers (Ford and Chrysler) along with setting up a continual training program to advance the skills of our technicians. Hours for this job are Monday through Friday from 7:30AM-5:30PM and every third Saturday from 7:30AM-Noon. WE REQUIRE: • Previous Experience (Ford or Chrysler preferred) or Vocational/Technical Degree • Adequate computer and typing skills • Professional appearance • Personal tools and toolbox • Valid Driver's License • Resume or Application WE OFFER: • Income depends upon experience • Additional Training as needed • Blue Cross/Blue Shield Health Plan • Life, Disability, and Dental Plans • 401K Program • Other benefits Please apply in person or send resume to: Kyle Jeremiason, Service Manager Einspahr Auto Plaza, Inc. PO BOX 226/2020 8th Street South Brookings, SD 57006 kylej@einspahr.com (605)692-6106 Einspahr Auto Plaza, Inc. is an equal-opportunity employer.
Apply For Service Technician - Full Time Online
If you believe you would make a great asset to our team please fill out an application and/or send in your resume. We would love to hear from you!
Apply For Join Our Team Online
Reconditioning Team Member - Full Time
Job Requirements and responsibilities include and not limited to: • Wash vehicle using pressure washer. • Remove trash from the interior and cleans upholstery, carpet, and other surfaces, using cleaning agents, applicators, and cleaning devices. • Applies wax to auto body, and wipes or buffs surfaces to protect surfaces and preserve shine, using cloth or buffing machine. • Apply protective sealant. • Refurbishing headlights. • Maintain the standard and quality of service of the organization. • Understand and deliver to the specific requirements of the customers. • Inspecting the vehicles thoroughly for pre delivery. • Maintaining the proper function of all service tools and equipment. • Reporting any damage to the supervising manager. • Coordinating work with team members. • Other responsibilities provided by manager. Qualifications: • Valid drivers license with clean driving record. • Previous detail experience preferred. • Must be willing to work in a fast paced environment. • Positive attitude. This is a full time position.
Apply For Reconditioning Team Member - Full Time Online
Accounting Clerk Einspahr Auto Plaza is currently looking for a full-time Accounting Clerk to join our team. Einspahr Auto Plaza is a family-owned and operated new and pre-owned automobile dealership with franchises from Ford, Lincoln, Chrysler, Dodge, Jeep, and Ram that has served the Brookings area since 1969. Einspahr is an equal opportunity employer looking for a career minded, highly experienced, motivated Accounting Clerk to join our team. This is an excellent opportunity to join the fast-paced automotive industry. The main function of the Accounting Clerk is to assist the Office Manager/Comptroller in the day-to-day accounting requirements of the dealership. The Accounting Clerk will work some with all departments of the dealership. Accounting Clerk essential duties: • Prepare and post daily deposits. • Reconcile bank statements monthly. • Post Parts and Service invoices and file. • Reconcile and replenish cash boxes and petty cash. • Maintain accounts receivable, process and mail statements, record payments, and send out past due notices. • Process weekly paychecks with benefit deductions. • Advise Office Manager of inventory adjustments. • Process dealer trade and courtesy delivery paperwork. • Post new and used vehicles into inventory. • Title and plate vehicles when required. • File sold and leased vehicle deal jackets. • Assist in posting vehicle sales. • Keep office and equipment supplies stocked. • Prepare mail for delivery to the Post Office. • Answer telephone when receptionist is absent. • Post warranty repair orders and warranty payment statements. • Safeguard employee and customer personal information as required by Federal, State, and dealership policies. • Record all vacation, sick leave, time-off without pay, or any other absences. • Maintain a professional appearance. • Maintain a clean and uncluttered work area. While this is a comprehensive list of essential duties there may be other duties as assigned. Qualifications: • A bachelor's degree in accounting or work experience equivalent • Strong written and verbal communication skills • Strong organizational skills, analytical skills, and accuracy in details • Ability to provide quality customer service • Knowledge of Microsoft Office • To perform this job successfully, and individual must be able to perform each essential duty satisfactorily and meet deadlines on a timely basis • Reasonable accommodations may be made to enable individuals with disabilities to perform essential functions. • Valid Driver's license Compensation and Benefits: • Compensation depends upon experience • 401k with matching • Dental, Medical, Life and disability insurance • Paid Vacations • Other outstanding benefits Job Type: Full Time Apply in person or send resume to: Einspahr Auto Plaza Attn: Trish Garry 2020 8th Street South/PO BOX 226 Brookings, SD 57006 einspahr@einspahr.com
Apply For Accounting Clerk Online